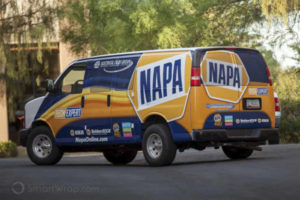 Importance of a Logo Design
No matter what kind of business you have, if you don't use your company vehicle to advertise your business, you are missing out on one of the best ways to leverage your brand. A white, generic company vehicle without branding is just another vehicle on the road that goes unnoticed by every single person around it. Seek out logo design services in Scottsdale that best suit your needs. Keep in mind that best designs support not only your goals, but also your business.
We Create Designs that Simply Work
Be prepared for the designers at SmartWrap to ask a lot of questions to create designs that simply work. We specialize in creating highly effective designs, branding assets, and vehicle wraps in AZ for small and medium-sized businesses. We focus on building your brand identity by designing logos and vehicle wraps that not only get noticed – but get remembered! Whether you need car wrap advertising or are looking for adequate vehicle wrap marketing, our system is refined through continuing research and exploration to create an experience that evolves and adapts to your specific needs.
Call Us to Work Together and Improve Your Business
We offer the ability to finance your vehicle wrap with us but before we give you a quote, we would like to learn about you and your business. We want to know what your goals are and where you want to take your business. We do this to make sure that when we work together, our designs support all your ideas and the whole your business. Contact SmartWrap today for a free, personalized quote on your next vehicle wrap.