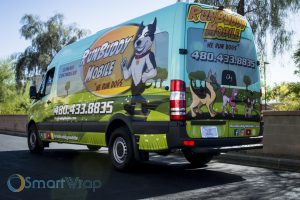 Are Car Wraps Effective Promotional Tools?
Are you looking for a way to get your brand in front of other people? Need a creative way to do so? Consider vehicle wrap design in Scottsdale. Car wraps work to put your image in bright colors and graphic detail in front of your customers. In many ways, this type of marketing is taking over vehicle-focused marketing methods. It's a lot like commercials on the radio – it targets people when they have nothing else to look at or do. But, in many ways, car wrap advertising in Scottsdale is even more effective.
Why Does It Work?
Vehicle wrap marketing in Phoenix works for many reasons. At the heart of it is that it is different. It stands out because most vehicles do not have this. Imagine a vehicle pulling up on the side of the road near you. Every other vehicle is just a color. This one has some type of writing or an image on it. You want to know what it is. You keep looking at it until you figure it out. This is why vehicle wrap design is so effective. People want to find it out.
Finding Vehicle Wrap Marketing Near Me
If you are a business – even if your business is not mobile and does not travel, deliver, or have a fleet of vehicles – using this type of marketing can be incredibly easy to do. Designers work closely with you to help you create the ideal car wrap advertising in Scottsdale. The result? You get to create the image you want in the minds of your customers.
Getting Started Is Easy
If you are thinking about vehicle wrap design in Scottsdale, call Smart Wrap Vehicle Wraps. We create designs that work. Call us now to learn more.