Design and Printing
When you decide to get a vehicle wrap to advertise your company, you want to know you're getting the best value and end-result. You will want a logo design service that can take your core business ideas and values and transform them into a visual representation which encapsulates everything you promise to provide for your customers.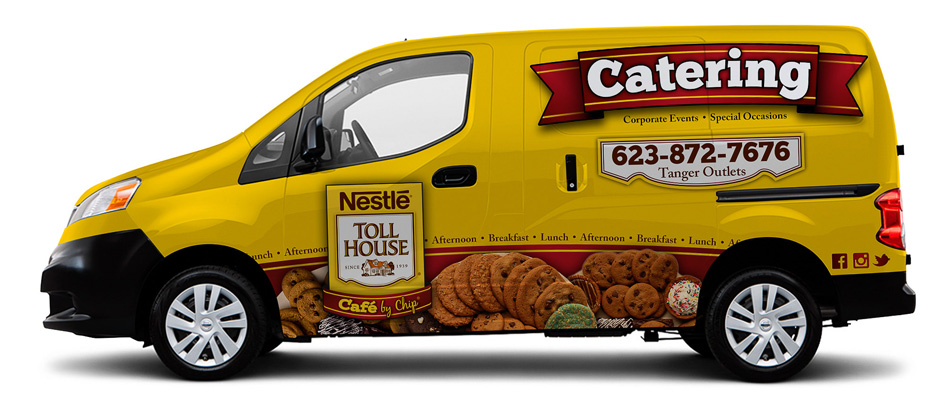 Step One: Logo Design and Logo Branding
When designing a custom logo, the focus is on your brand. You want people to not only notice your logo branding, but to remember it. Keep in mind that your logo defines your company more than anything else.
A good logo design service will want to know more than just what services your company provides or how you want to be positioned in the marketplace.  They will want to know what you hope people would think of your company when they see your logo and more importantly what they would feel about your company.  Potential clients may think you're a great company but unless they actually feel something for your brand, it is unlikely they will be compelled to take action.  Remember, you are a consumer and shopper as well.  When you want something, you get that 5 year old kid on Christmas day feeling and you say "I want that!"  Then you quickly come up with logical reasons to justify your decision.  It's not likely a potential client will be thinking like Spock from Star Trek saying to themselves "The logical thing to do is to call ABC company"  Make sense?  Send me an email or call me to get more into the psychology of branding, positioning and decision making : Tim@smartwrap.com or 1 866 883 7868.
Step Two: Vehicle Wrap Printing
For success in outdoor marketing and advertising, your logo will need to lend itself to vehicle wrap printing. Logo branding makes your business memorable, and isn't that what you're looking for? People aren't going to have a lot of time to notice what's written on your vehicle, and you will want the overall effect to make a lasting impression.
Engage a vehicle wrap printing service that provides the gold standard for logo designs. You only want a facility that is 3M 'MCS' certified. A top quality vehicle wrap printing company will support you at each step of the way, from talking about to designing your logo, to actually seeing it in print and installed on your vehicle.
Step Three: Vehicle Wrap Installation
Once your wrap is printed, it needs to be professionally installed. When it comes to printing and installing, experience is what will determine the best outcome. There are techniques that can only be acquired from years of installing vehicle wraps.
Often times, there is vehicle prep to do to on the surface where the wrap will go. In addition, there is a proper order to how each wrap is to be placed, and a good installer knows just how to make this happen. They also know how wraps can be stretched just far enough in order to prevent distortions or tears. A good seal on the edges is going to ensure the vehicle wrap printing will continue to look perfect for years to come.
Don't leave your vehicle wrap to just anyone. Remember, it all starts with logo design and branding your company for its best success. Although it's great to be noticed, it's far better to be remembered.