Inconsistent or Confusing Data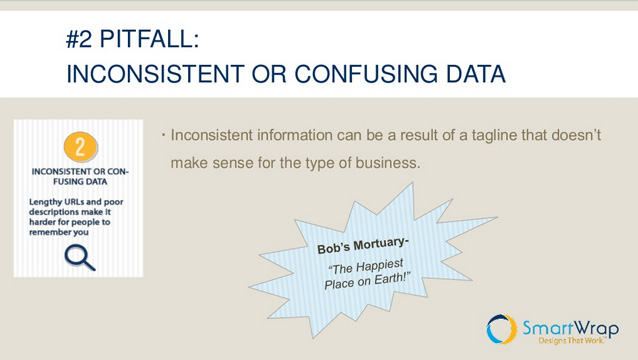 When you only have a few moments to grab the attention of those behind you or that you are passing by in your vehicle, you need to make that limited window of time count. Vehicle wraps can be a fantastic way to spread the word about your business…but only if you employ the proper strategy.
Remember, your goal is to present the information in an effective and easy-to-remember layout.
One common mistake many companies make is including inconsistent or confusing information on their vehicle wrap. This also includes inappropriate or nonsensical tag lines. If you are representing a mortuary, for example, going with any humorous or jovial tagline would be far from appropriate and would of course be offensive. If you are including a tagline, always be certain it matches the mood of your company, product and services.
Confusing data can also take the form of web addresses on the vehicle. We are all familiar with the Internet these days so including the http or WWW in your company's URL is a bit overkill. It's far easier for a potential customer to see and remember your web address if it isn't hidden among these unnecessary characters. While on the topic of web addresses, be certain that your own makes sense for your businesses name. Of course in some cases the most appropriate URL may no longer be available but in most cases you may either be able to purchase it from the domain holder or come up with something still consistent (perhaps an abbreviation of the name). Remember, your goal is to present the information in an effective and easy-to-remember layout. Often we become so familiar with our brand and products that we can't catch these confusing messages ourselves. When working on your vehicle wrap design, a professional can help point these out for you.  If it is possible to Google your business name and your website to come up at the top of the list it is unnecessary to have your website on your vehicle wrap.
What do you want people to remember?
Think about all the vehicle wrap designs you have seen recently. If you had to instantly recall one thing about one, what would it be? If it's not the company's name, they are clearly not doing something right! The most important design element you can have is a legible and dominant company logo. While you may want to include your contact information, if a person remembers nothing but your company name, they will still be able to find you, your location and phone number with a few clicks of the mouse. As a society, we have grown accustomed to Google searches for everything so if someone knows your business name and the product or services you offer, they are nearly certain to find you.
If you are including a tagline, always be certain it matches the mood of your company, product and services.
This all seems pretty basic right? Well if we add confusing or inconsistent messaging to this bold logo or company name, suddenly it becomes buried and lost. By keeping your logo as the center focal point on your wrap, a single web search will then direct them to all the other information, photos, accreditation and various other details you may be tempted to add to your wrap design. In this case, less is more! What do you want them to remember? Your name of course! So don't get so wrapped up in the miscellaneous information about your business that you forget to make this the focal point.
Another mistake often made by businesses hoping to cut advertising costs is to allow more than one business to be included on a vehicle wrap. This is a massive mistake. Just like renting a few rooms out in your giant house to save money on the mortgage, some businesses may 'rent out' space on a vehicle wrap to cut advertising costs. You may think that you are in the clear so long as you are obviously not advertising your competitors brand but by including two different business types, let's just say an attorney and a restaurant for example, you are sending a muddled, confused message. People may be so busy trying to make the connection between the two for instance ("if I eat at this restaurant, will I need an attorney to represent me when I suffer severe food poisoning?") that your logo or company name may be all but lost. Suddenly saving a buck or two has now resulted in nothing more than throwing money out the window.
Along the same lines, if your company sells a variety of different brand name products, avoid sprinkling the vehicle in these logos. This will result in confusion and your audience will be researching those products in their Google search rather than your business.
Tim Hilcove
Google